The man who takes care of mom and baby
According to: " The Saigon Times – No 44- 2014 – XB 30-10-20
thesaigontimes.vn/Nguoi-dan-ong-cham-soc-me-va-be.html
Studying abroad since the age of 15, earning the bachelor's degree from Drexel University – the USA, having 5 years working experience as a vice-president-assistant at Dong A Bank with many potential opportunities of promotion, Tai decided to quit his job to start up his own business – A Mom and Baby Healthcare Service Company.

It was started from his own need
On March 8th 2012,  Care With Love Company (Caring with all love) was officially set up, 2 months after the childbirth of 27-year-old-man's first daughter. To many people, this was a risky decision. However, as the one who works in the financial industry, Tai considered his decision as the sensitive and the brave in business.
Moreover, this commitment was also engaged to facilitate the challenges of baby care for all young parents and families, especially those who have been inexperienced before.
He confided: " Being first-time-parents, we were confused and could not handle very well whenever taking care of our baby. Worse, we could not ask for any support from our family due to their business. It was extremely hard to find an experienced nanny that we had to change many nannies until we found the most suitable one. Importantly, babies and especially newborns are intensively fragile that they could be influenced permanently by any mistake in this period. Hence, the idea of CWL's establishment was caught…".
Mr Trần Hữu Tài and Mr Trình Tuấn – a single dad who used to achieve the prize at UNICEF Mobile Hackathon 2013 with the App " Ga Trong ", are preparing to release a new mobile App " babyMe " in which the instructions and the knowledge of baby care in the first 1000 days since pregnancy are provided for moms. BabyMe is also the only start-up project representing for Vietnam at The World Start-up Competition with the participation of more than 40 nations hosted in Korea, November 2014.
The population of Vietnam in 2011 was 88 million people. In Ho Chi Minh City only, there were around 9 million people whose birth rate was more than 1%. In average, there might be 90 000 children born each year. Therefore, these potential statistics have shown Tai the bright future of this service which is going to run well on the market.
Initial Difficulties…
However, like any business, Care With Love (CWL) was also unable to avoid the initial difficulties.
Tai revealed that there were many disagreements in the beginning. His dad was embarrassedly hiding everyone about his resignation at the bank to start up a service of Mom and Baby Health Care. " Spent a lot of time to study abroad in order to have a stable job and a bright future of promotion, I could not understand why you quitted your career and interested in taking care of prenatal ladies and babies instead. " – his dad was disappointed. Nevertheless, Tai was still consistent on his belief and went on his decision since this model has become successful in Singapore and the USA.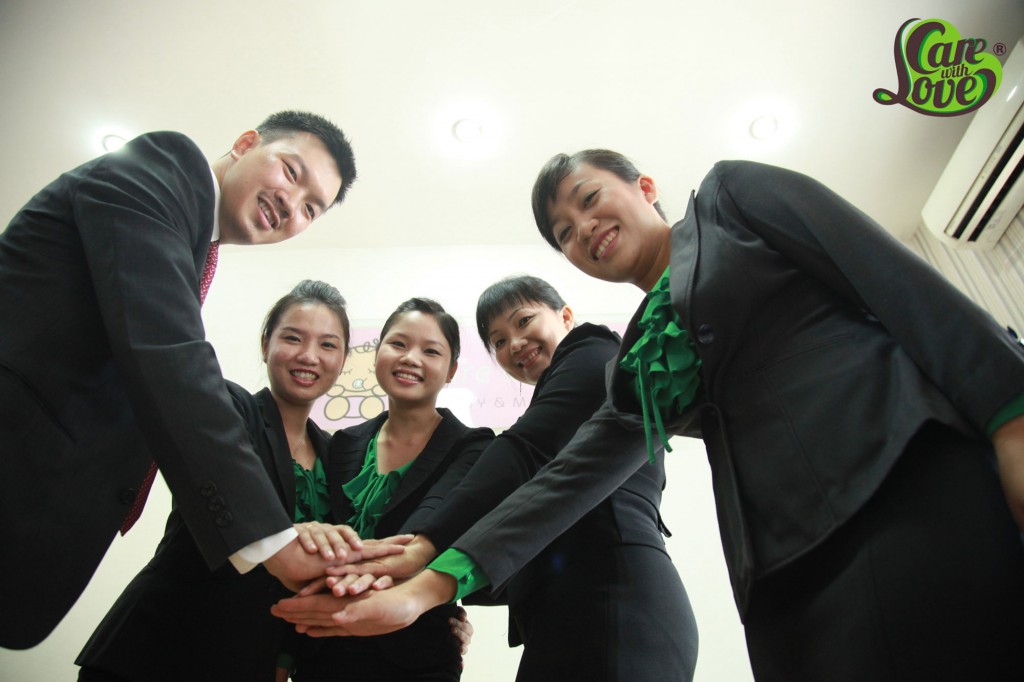 Life isn't always sunshine and roses, his fortune hadn't come that new problems still happened continuously at that time. It's not until October 2012 when he could be able to put his full dedication for Care With Love even though it had been established since March 2012 while he was still working in the Strategies Department of Dong A Bank with many unfinished tasks that he was responsible for. When Tai came back, Tai had to shoulder all the burdens and reconstructed the company from tons of debris caused by his temporary acting owner who used his idea to start the other business and brought a half of CWL team with him.
During the first 3 months of Tai's return, the company was facing many difficulties. There were only 5 to 6 clients each month that the turnover could not afford the operating expenses. Director Tran Huu Tai was spending a lot of effort that he even came himself to many places: the prenatal clothes shops, hospitals, supermarkets, MekoStem… to ask if he could put the flyers and leaflets of his spa.
"Pressure" and "Obsession" are 2 words Tai used to depict that span. Having enough pressure to approach all prenatal ladies wherever he met to give them his spa flyers and having enough obsession to let the thought of having more clients followed to his dream.
Difficult roads often lead to beautiful destinations. Until 2013, CWL had been known by a certain of people thanks to Google, Facebook, flyers, leaflets and references. There was a significant growth in the number of caregivers from 6 to 30 people between Oct 2012 and Jan 2014. At present, the company is having more than 50 caregivers serving for more than 300 clients each month; The monthly turnover has increased regularly from 10 to 20%. They are all shown that Tai has been going on the right path.
Babies and especially newborns are intensively fragile that they could be influenced permanently by any mistake in this period.


Expand The Service, Construct Clients' Trust
Mr Tai also added that at the beginning, the company only focused to provide baby healthcare service includes shower, baby home care, massage treatments and remarkable betel-pepper leaves remedy helping baby to avoid from insomniac… However, during the working process, Tai realized that prenatal ladies and after childbirth women are also willing to be served by a healthcare service especially by an aesthetic service. Hence, Care With Love has expanded into mom services aiming to satisfy all women's needs (includes prenatal massage treatments, renewal facial, steam and massage treatments which advances the body shape reconstruction).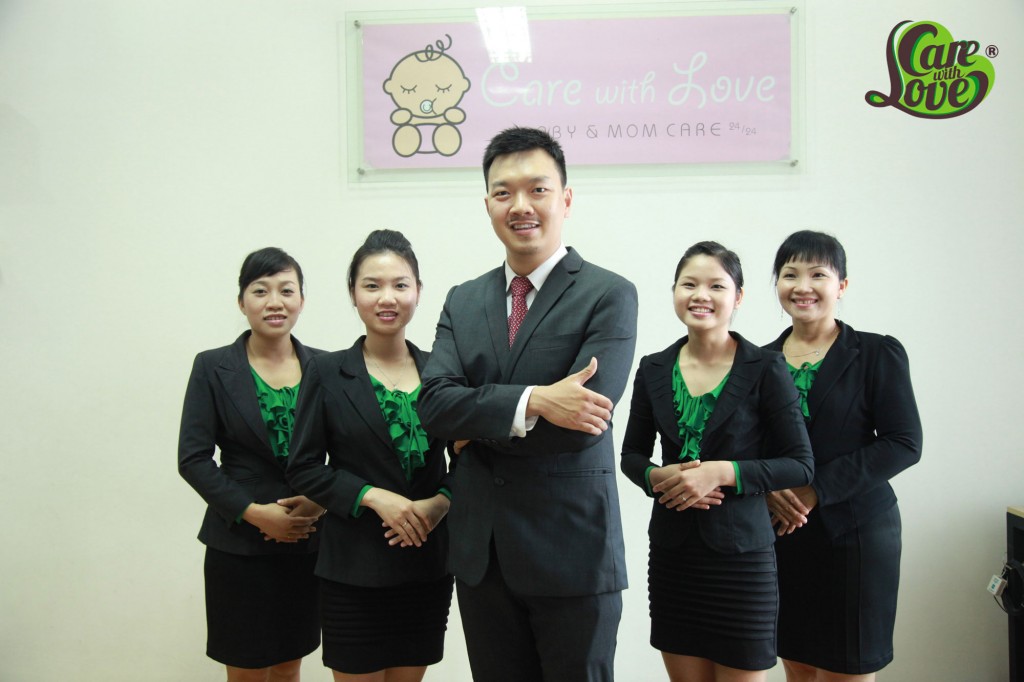 Until now, CWL has provided our services to almost 5000 clients which include 2000 babies and 3000 moms. Clients who come to enjoy our service, are from everywhere no matter they are officer or businesswomen or even foreigners. Everyone are all welcomed at CWL. In 2015, we are expecting to open a specialized spa which focuses to serve only prenatal ladies and after delivery moms.
Sharing about the growing stages of CWL, Tai appreciated: " The company success is thanks to the effort of all CWL members. Anyone in the team is also representing for CWL brand image as well as the company prestige. Moreover, the team includes caregivers and therapists who have been retaining professional skills and scientifically profound knowledge that they are easily able to construct clients' assurances. Our dedication and high responsibility in work are also the elements which shorten the distance between clients and customer care staffs. We have felt our clients trusts, as well as their love, have been spread publicly to their relationships."
In 2012, the fortune of CWL came when the strong waves of using Facebook, Google and smartphones were potentially starting, which brings speedily their services closer to the clients' awareness.
He did not forget to refer his beloved wife cum his companion as she's always on his back during his toughest period. Without her advice and her encouragement, Tai and CWL might not going anywhere.  
MEDIA AND  CARE WITH LOVE
References :
Báo Doanh Nhân Sài Gòn – Thương Như Cha Yêu Như Mẹ ( Doanh Nhan Sai Gon Newspaper  – Love as much as parents do )
http://www.doanhnhansaigon.vn/online/kinh-doanh/y-tuong/2013/03/1072635/thuong-nhu-cha-yeu-nhu-me/
Báo Thanh Niên – Dám Nghĩ Dám Làm ( Thanh Nien Magazine – Dare to think, Dare to do )
http://www.thanhnien.com.vn/pages/20140124/co-hoi-trong-tam-tay.aspx